Login
Log in if you have an account
Register
Having an account with us will allow you to check out faster in the future, store multiple addresses, view and track your orders in your account, and more.
Create an account
Fallen Aristocrat | Fairy Tales
01 Oct 2023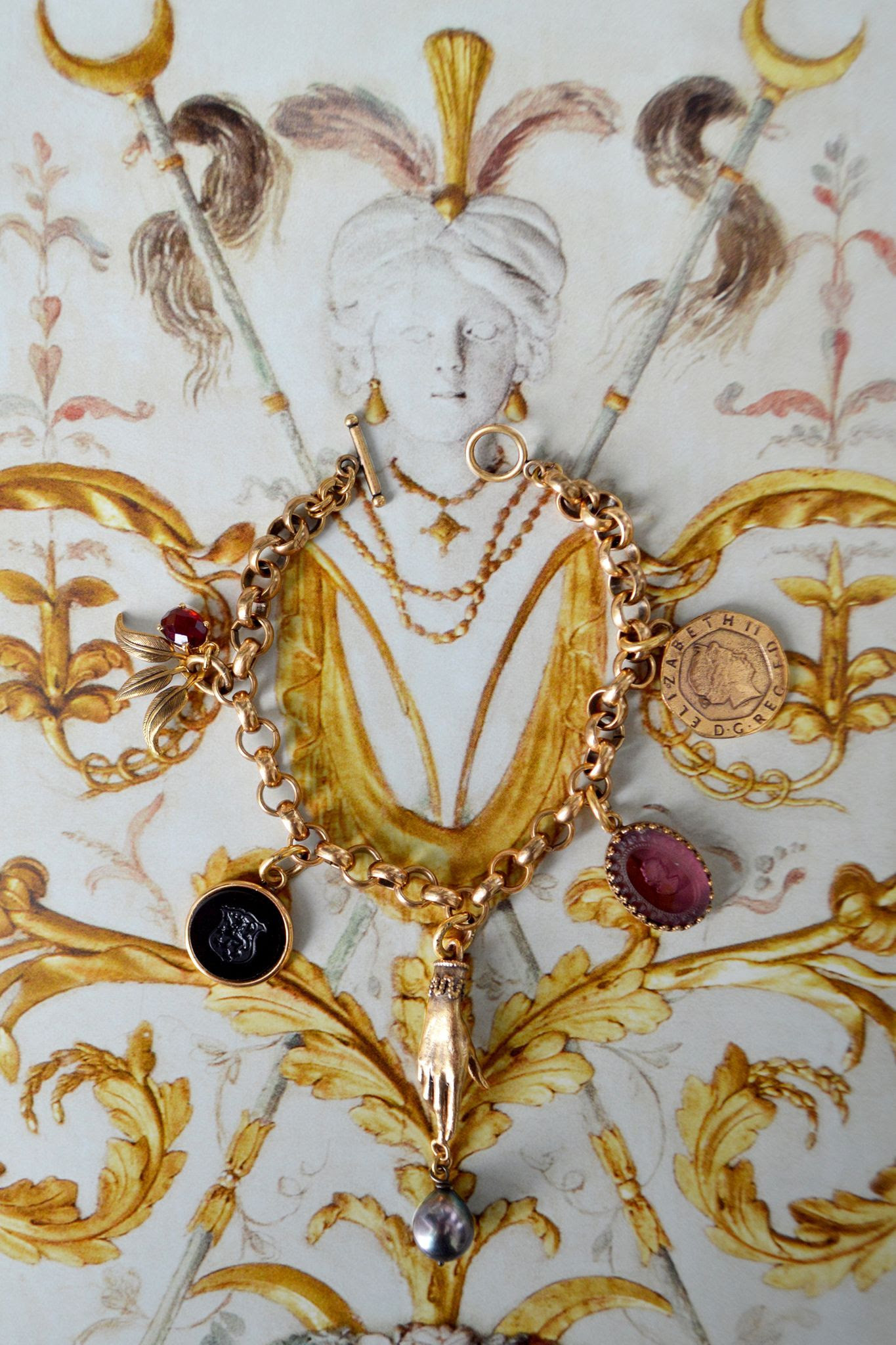 The Paris Market presents...
 A collection of enchanting jewelry inspired by wanderlust, longing, and a fall from grace. 
Designed by the owner of The Paris Market, Paula Danyluk.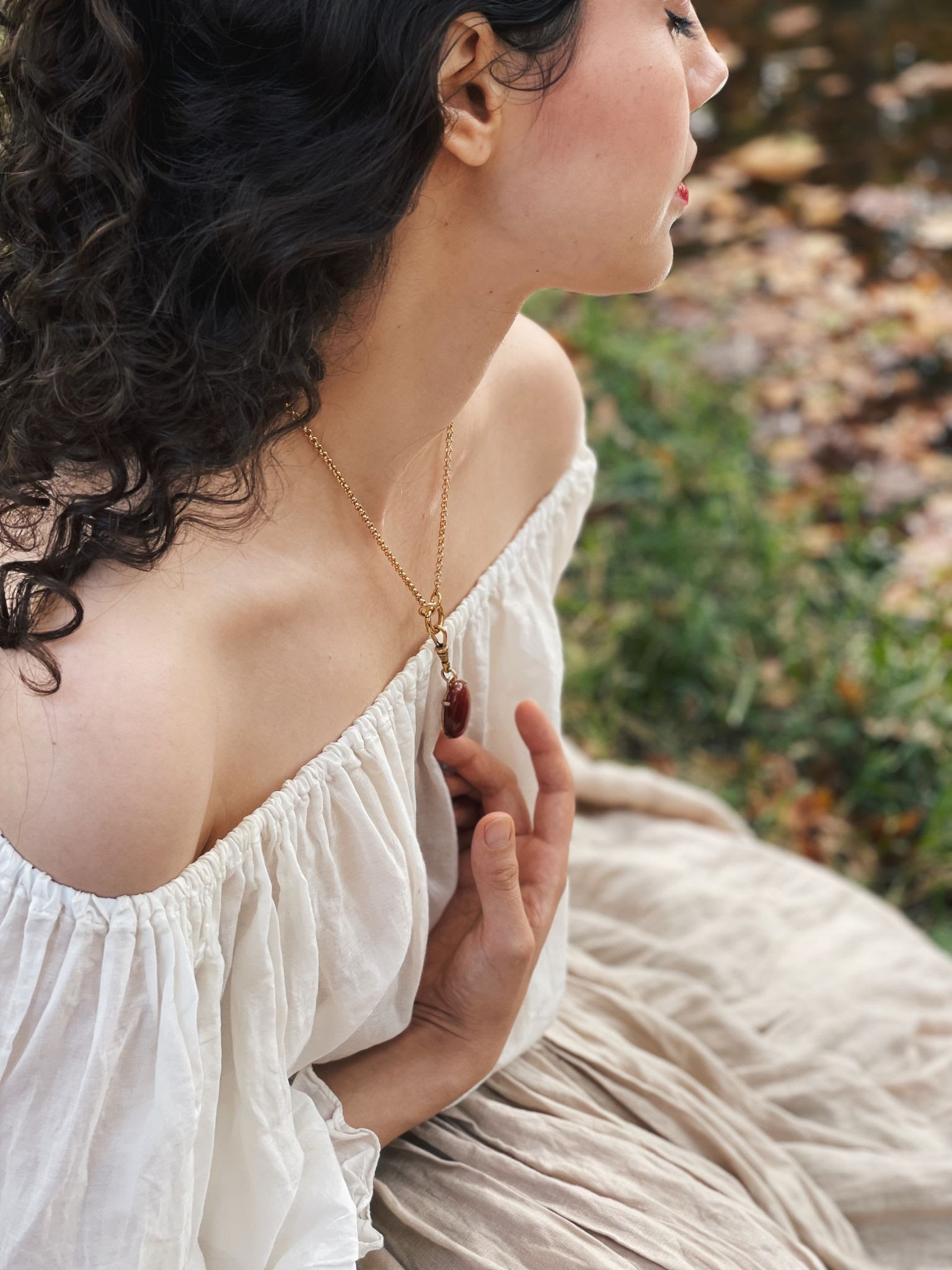 Featuring
FAIRY TALES
If you haven't yet surmised, we fallen aristocrats adore fairy tales. 
Not the saccharine stories filled with song—but the dark ones. The Grimm. Drama drenched in sweet shadow, hearts torn apart by love, velvet-green forests and enchanted mirrors decadent with hidden jewels.
Collect them for yourselves, these legends captured in stone and glass. Are you a queen driven mad? A sorceress building her own ivory tower, or the lost princess tucked inside? 
What role do you play in fairy land? 
SNOW WHITE
A tale born of the Black Forest, with twisting branches and gnarled roots, ruby-red apples and hair black as night. We all know how it goes, with a lovely little girl who drew the jealous eye of an Evil Queen. 
In a singular charm bracelet, we've worked to capture this legend's spirit and mystery in one. A golden leaf for the forest, a bright red stone blanketing its edge. An onyx-black crest for the princess, and an outstretched hand with a poisoned fruit just beyond. 
A mirror in violet glass, and coin embossed with the queen's image complete the chain.
But the storytelling isn't quite over.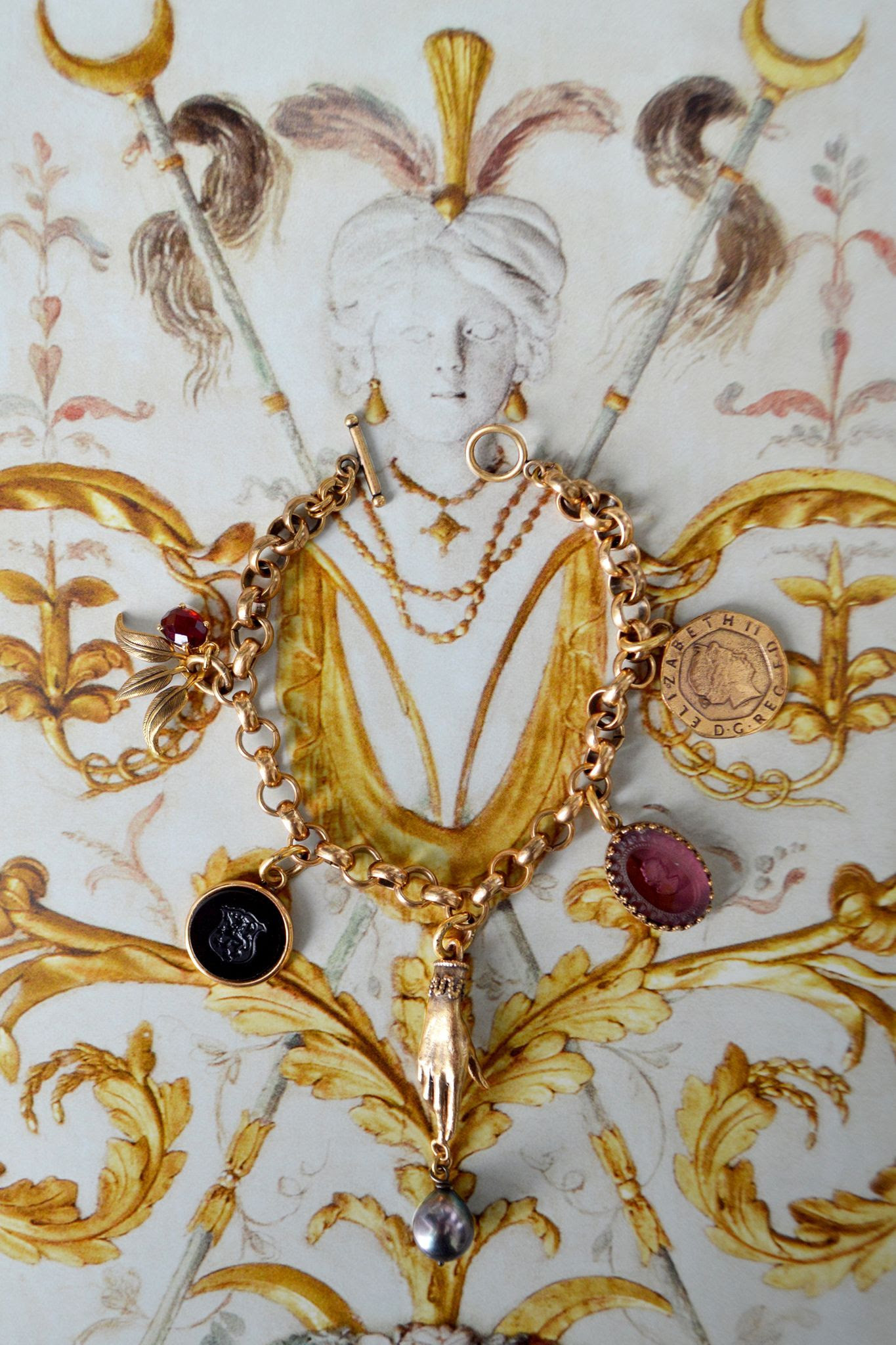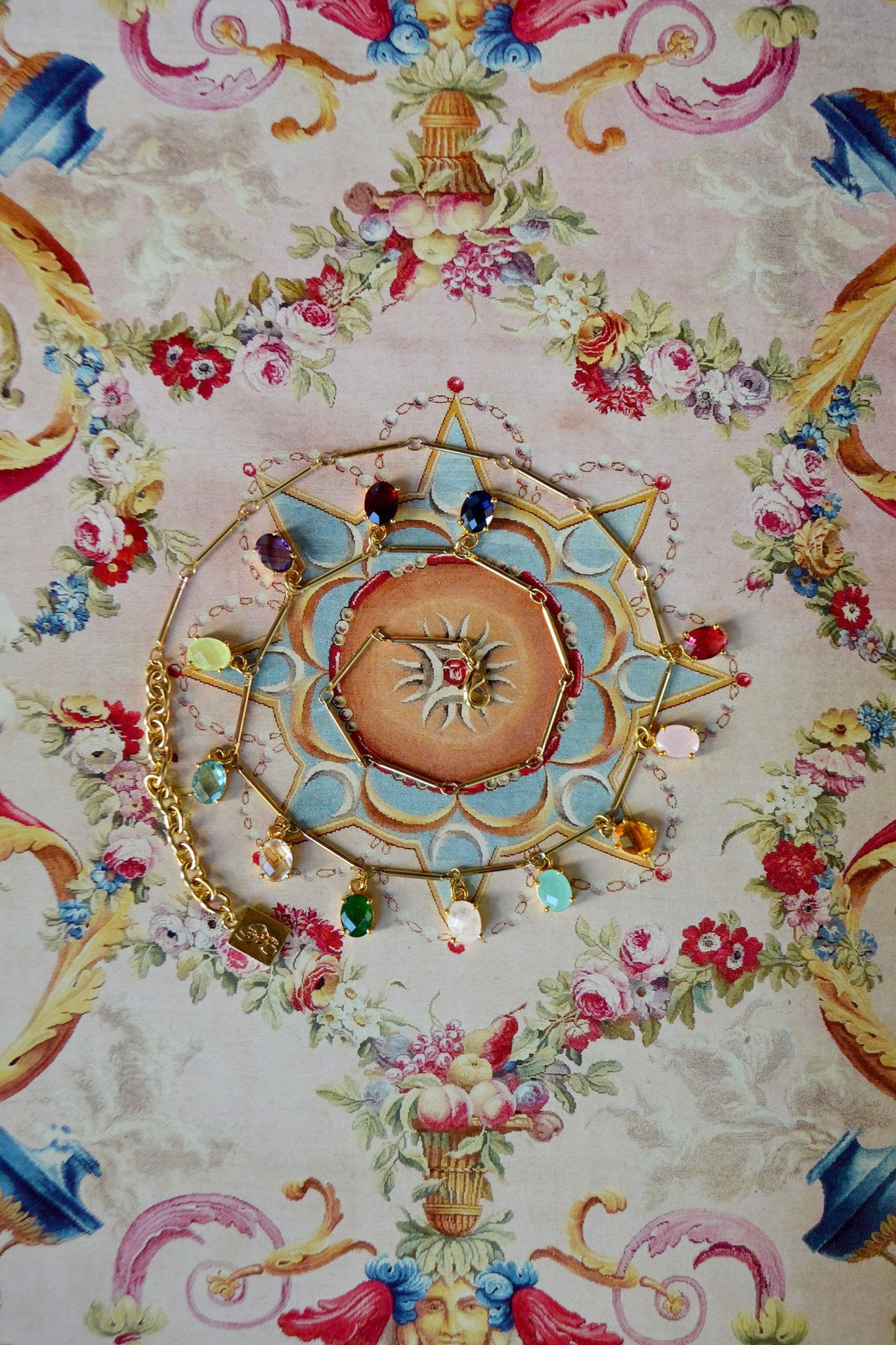 TWELVE DANCING PRINCESSES
Once upon an evening, twelve clever princesses wore their dancing shoes thin—but only beneath the cover of darkness, tucked behind a locked door to their room. Curious yet quick to temper, their father fails to understand where it is they go, and promises both daughters and kingdom to the man who can unlock their secret. 
Of course, one does—a sneak of a soldier who steals behind them into a magical trap door and walks through forests: silver, diamond, gold. Across three nights, he steals twigs from the woods and a golden cup, until he can prove to the king where it is his daughters go.  
He's a hero in the end, but who do we remember centuries after the tale was first spun? Twelve brilliant girls, woven together with strands of gold.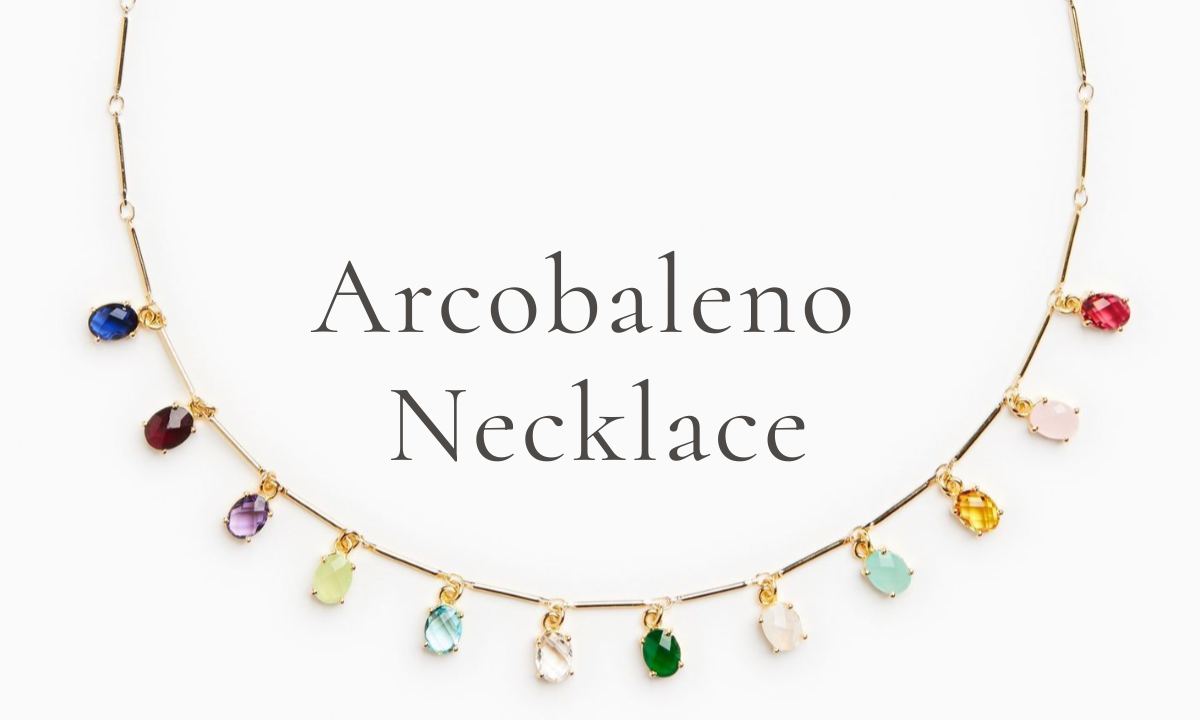 An arcobaleno is rumored to bridge this world with the divine. With a crescent of stars as colorful and abundant as seaglass, this rainbow offers the chance to bear twelve rays of light upon your collarbone, and hold community with both the earthly and divine in life.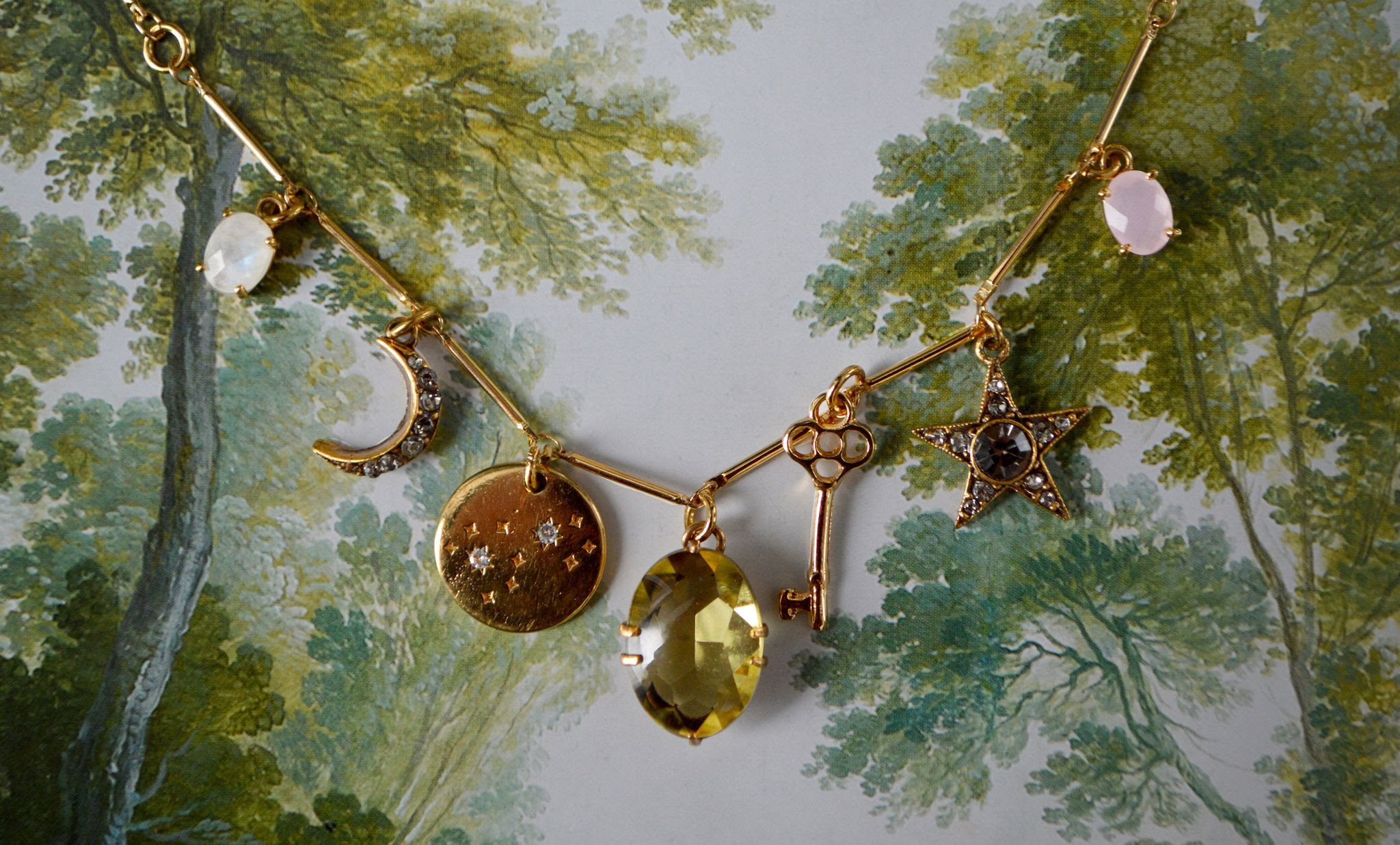 RAPUNZEL
In an overgrown garden behind a moss-covered wall, a desperate father plucked greens from the earth—fragrant and crisp, enough to satisfy his poor wife's belly that was only just starting to swell. It was only his bad luck the sorceress who tended that garden craved a child as well. 
Rapunzel would be her name, for the delicate greens that cost her a home. Raised by the sorceress, the girl grew lovely and light—until jealous of the world's gaze, the sorceress locked her in a tower with no way to escape. For years she subsisted on the sun's passage and starlight, dreaming of a life just beyond her reach, until the day a prince arrived. 
We'll spare you the gory details of what came next. 
This bracelet is one of hope, spinning a tale of its own with the brilliant sundrop at its center, a key just beside, the moon and stars and soft, colorful stones mirroring either side. 
Romance & Dreams of a Far-Flung Future
"If I'm honest I have to tell you I still read fairy-tales and I like them best of all."
- Audrey Hepburn
Photo - Jamie Beck | Model - Louise Pascal
Note: All Fallen Aristocrat jewelry is small-batch, and therefore supply is limited. If you'd like a specific charm, but our selections online are showing it's out of stock, please email us at customerservice@theparismarket.com and submit a request to be informed when we have it back! Most styles are replenished within 2-3 weeks. 

 

 

All links may be found by clicking through images.  

Explore Fallen Aristocrat further here.

 

 
Leave a comment