Login
Log in if you have an account
Register
Having an account with us will allow you to check out faster in the future, store multiple addresses, view and track your orders in your account, and more.
Create an account
Gift Guide | Easter Basket
20 Mar 2023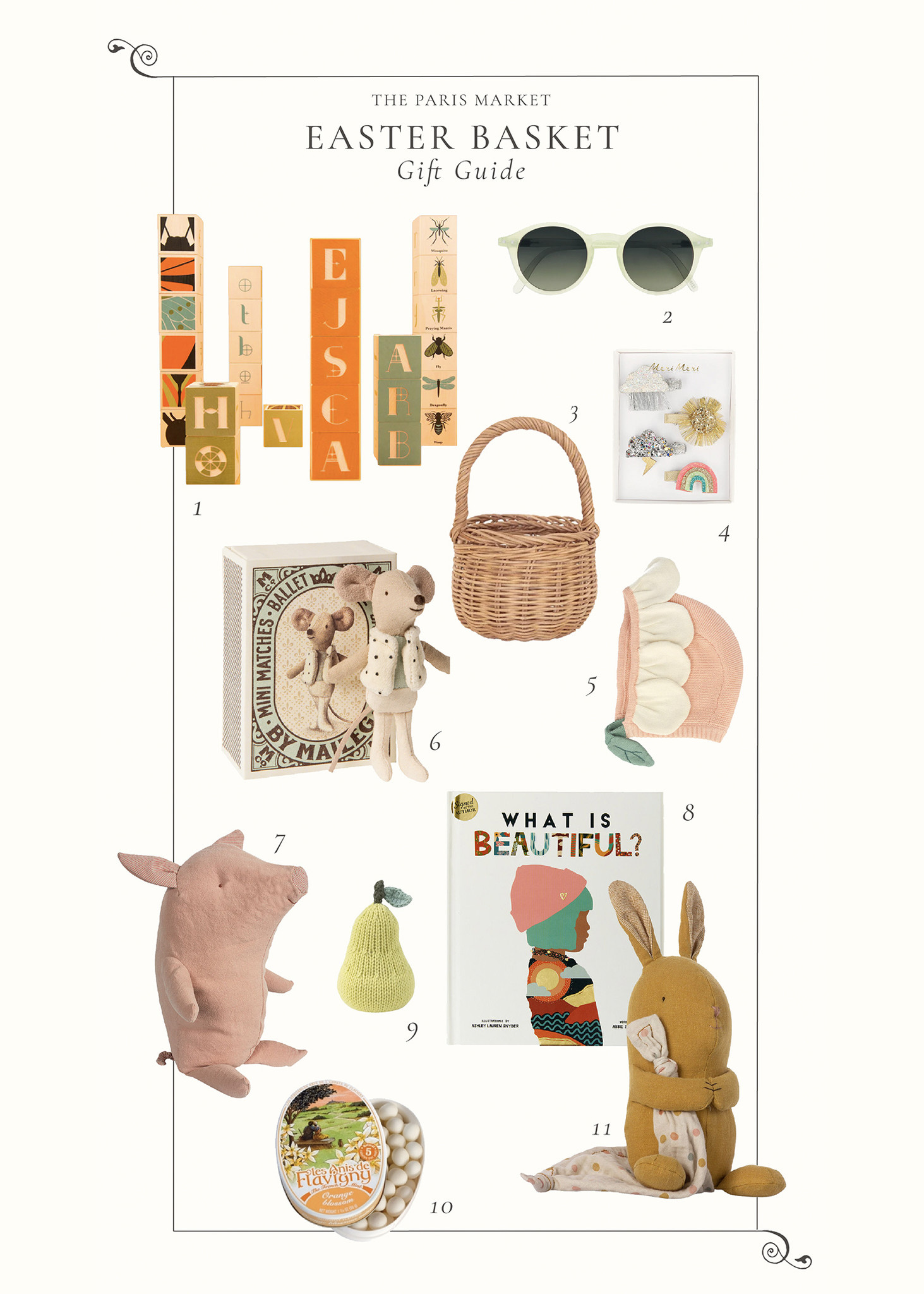 Our little darlings are full of endless curiosity, wonder, and joy—traits we hope to bolster and grow with this basket full of fun! With tasteful colors, thoughtful design, and the gentlest approach to childhood, our gift guide is curated to make them smile. ⁠
If you think bugs are ugly, think again! The detailed close-ups of each featured insect allow children to explore patterns in nature and etymology.  
These durable blocks made of sustainable Basswood feature upper case and lower case alphabet letters in the Art Nouveau style. The set includes 14 insect related graphic patterns for extra visual and artistic stimulation.
2. Quiet Green Junior Sunglasses
Keep your babies' eyes safe on bright summer days with these unisex polarized sunglasses meant for children aged 5-10 years old. 
Designed in Paris, the frames are stylish and sweet while also providing 100% UV protection. 

3. Natural Rattan Berry Basket
Made with little hands in mind, the Berry Basket is the perfect size to hold all things small and precious — Easter egg hunt, anyone?
Handmade from 100% natural Rattan and sturdy too, your little one will love using this little basket to collect all their little treasures - hair clips, animal figurines and more - or use it in your home as storage for treasures and trinkets. 
These sparkly weather hair clips will look fantastic come rain or shine! Match the hair clips to the weather, or choose them to suit your mood.
Sun, rain, lightning or rainbows, all beautifully crafted from sparkly glitter fabric.
This Peach Daisy baby bonnet is absolutely adorable, crafted beautifully from soft organic knitted cotton, with sweet petal and leaf details.
Finished with an ivory button fastening, this bonnet is suitable for any infants 0-6 months of age. 
6. Dancer in Matchbox, Little Brother Mouse
This dancer mouse dressed in a cute vest is a new friend to the collection, stored in his own sweet matchbox alongside the other mice. Measured at 4", this mouse is made of a cotton blend in a pleasing neutral palette.
Beloved for their heartwarming personalities, this line of toys show playfulness and charm in every last detail. 
Oink Oink! Make room for the cutest pig of all time! Truffles is an adorably pudgy pig who can sit straight up because of the beans in its bottom, made with short arms and a curly little tail.
Steeped in the rich, endless wonder of Danish fairy tales, these tiny creatures are designed to inspire and delight a child's purest imagination.
A rhyming illustrated book appropriate for ages 6-12, this is a whimsical and refreshing reflection on beauty for every girl at every age. Written by local Savannah author, Abbie Smith Sprünger.
What is beautiful?  It's a question we all ask at some point in our lives. It's also a question many of us struggle to answer in a way that satisfies or affirms us. But what if we could change that for our daughters? And our daughters' daughters? What if we could give them a picture of beauty they can embrace, a picture they can see every day looking back at them in the mirror?
Designed with an eye to American and French storytelling, this washable baby rattle is crafted by hand from the extraordinarily soft fibers harvested in Peru.
Using fair-trade practices with a small team of artisans in the region, their goal is to connect each recipient of a piece to their humanity, and the richness they can gain when they offer kindness to one another and back to the world.
10. Orange Blossom Flavigny Candy Tin
These all-natural orange flavored candies are housed in a vintage decorative tin, with about 30 mints. 
Each anise seed is coated in naturally-flavored sugar to produce round and smooth orange flavored mints that will delight the palate and senses. Whenever you are craving something orange and fresh, you and pop one of these orange blossom mints in your mouth! 
This bunny has a soft cloth lovey, and will play a calm lullaby when you pull the tail. It is made of soft fabrics with unique prints, making it a lovely companion.
Lullaby friends is a collection with beautiful, washable items for infants and small children!
All links may be found by clicking through images & text on individual items.
Leave a comment