Login
Log in if you have an account
Register
Having an account with us will allow you to check out faster in the future, store multiple addresses, view and track your orders in your account, and more.
Create an account
Gift Guide | Graduation
28 May 2023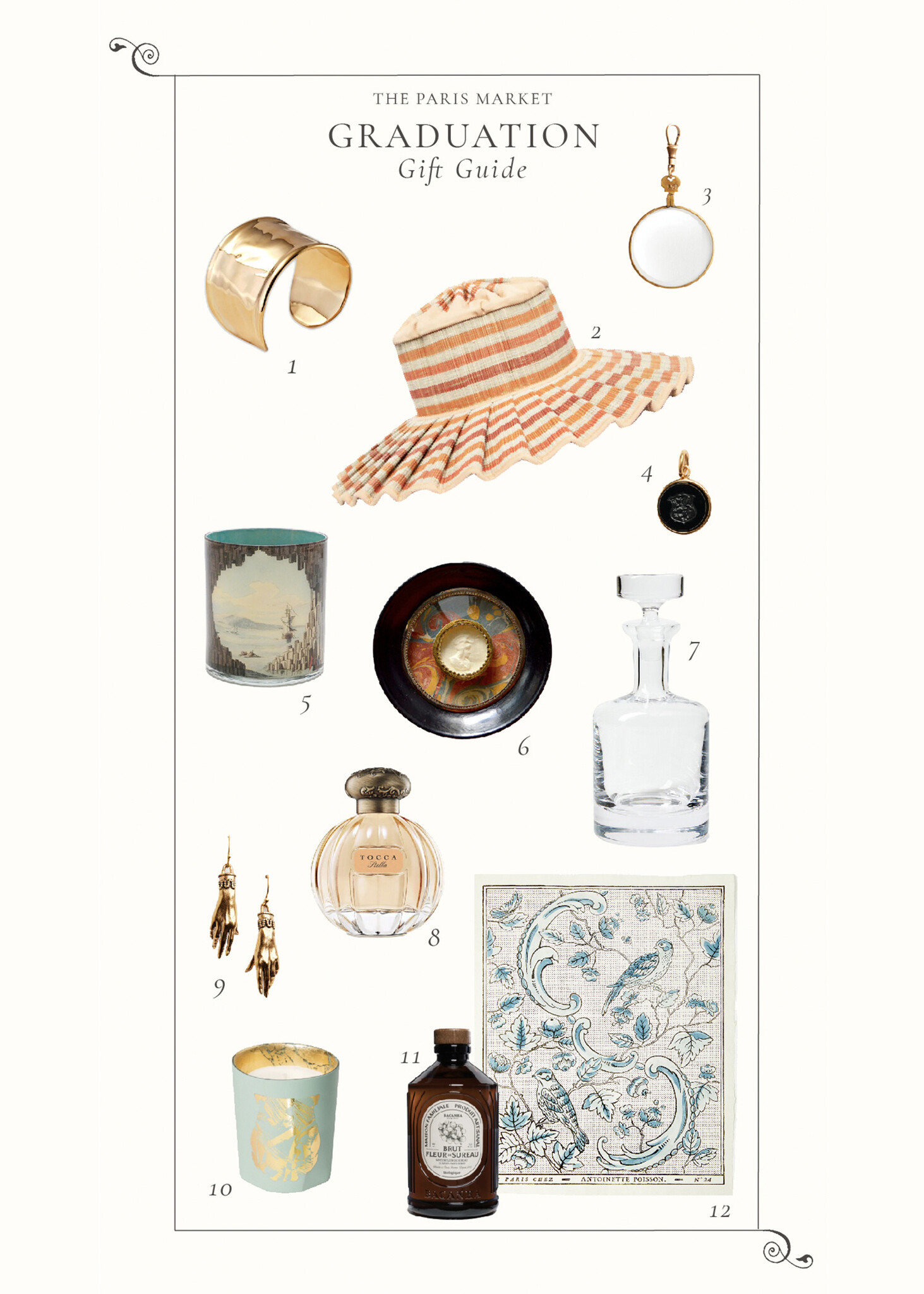 Congratulations to the Graduates! Savannah plays home to several stunning schools, many of whom are ready to embark on their lives beyond academia. From earrings inspired by artist's hands to cocktail syrups to a stunning sunhat for that first vacation before the career, we present a curated gift guide to ignite passions and fuel budding dreams. 
⁠
"Growing up my mom always wore large statement cuffs so I designed this piece in honor of her."
A native of Hilton Head Island, Selina King creates jewelry for people from all walks of life that fuses the high-end with the everyday. Selina strives to be as ethical as possible with the creation of each piece.
An artisanal, ethical Australian brand where coastal romance meets effortless glamour.
Lorna Murray sun hats combine style and sun-safety. The grass fibre woven material is certified UPF 50+, protecting your precious skin from the elements.
One-of-a-kind, vintage French optical lenses found by Paula at the brocante, and reimagined as modern monocle charms.
Each features individual identification numbers, and though the glass does not magnify, it encourages the wearer to see the world through different eyes.
Intricately detailed and rich with color, the charms of our Aristocrate line are cast from vintage prayer coins, cameos, intaglios, and glass stones sourced across Europe, promising to bestow beauty, protection, and strength to whomever the wearer may be.
Fallen Aristocrat is a collection of enchanting jewelry inspired by wanderlust, longing, and a fall from grace. By Paula Danyluk, exclusively for The Paris Market.
5. Basaltes Desk Cup by John Derian
An image of a sailboat glimpsed between two, carved walls of a sea cave where a small company of sailors lies in wait in a rowboat, red flag rippling in the breeze. 
Since 1989, John and a small studio of artisans in New York City have been creating glass plates, trays, bowls, and other decorative home items with decoupage from his vast and ever-expanding collection of 18th and 19th century prints. Featured in Vogue and having undergone quite a few collaborations, the full range of his work keeps us constantly inspired.
A delicate, raised cameo is backed by Italian marble paper, and wrapped in gold ribbon topped by petite glass pearls. One of a kind!
This exquisite, original work of art is one of several crafted of 18th century papers and textiles out of a small studio in Provence by artist Corinne Seranno.
The Como European mouth-blown lead-free crystal decanter is a stunning piece. The perfect place to store your very favorite single malt scotch, bourbon or whiskey.
Environmentally-sustainable, created with all-natural components.
Stella is a fresh floral fragrance that embraces your flirtatious spirit. It is inspired by a spontaneous romance and is a bright and breezy blend of lavish Italian citrus, sweet freesia, and spicy lily.
Tocca—'touch' in Italian—is a line of perfume devoted to a lifestyle of timeless beauty and old-world European charm. Each scent is wrapped in the names of powerful, hypnotic women who rule the minds and hearts of men.
A king among artists crowned legends by the Renaissance, Michelangelo once sculpted life from stone. These earrings are inspired by those masterful hands, stretched across the Sistine Chapel to outlast the ages, captured here in antiqued gold.
10. Tseng L'Esprit de L'Eau Candle by Trudon
Head Notes | Somalia incense, Juniper, Madagascar Black Pepper
Heart Notes | Clear Jasmine Accord, Mineral Accord, Jasmine
Base Notes | White Orris Accord, Cedarwood Texas , Cypres France
The founding idea behind the Maître Tseng × Trudon collection came from imagining the flow of water from the sky, enriched by elements of the earth. 
Raw Elderflower Syrup by Bacanha is an elixir of the flowers given by the famous shrub. Its strong and pleasant fragrance contrasts with its sweet and juicy flavor. Perfect for application in your cocktail, iced tea, lemonade or lemonade recipes.
11. Domino Paper | Oiseaux et Feuillage
Entirely hand-crafted, with a design informed by heritage restoration, Antoinette Poisson invokes the intimate interior designs of the 18th century with their Domino Papers. Decorative, stenciled artwork printed on cotton rag paper. Made in Paris.
All links may be found by clicking through images & text on individual items.
Leave a comment