Login
Log in if you have an account
Register
Having an account with us will allow you to check out faster in the future, store multiple addresses, view and track your orders in your account, and more.
Create an account
Gift Guide | Light Returning
19 Jan 2023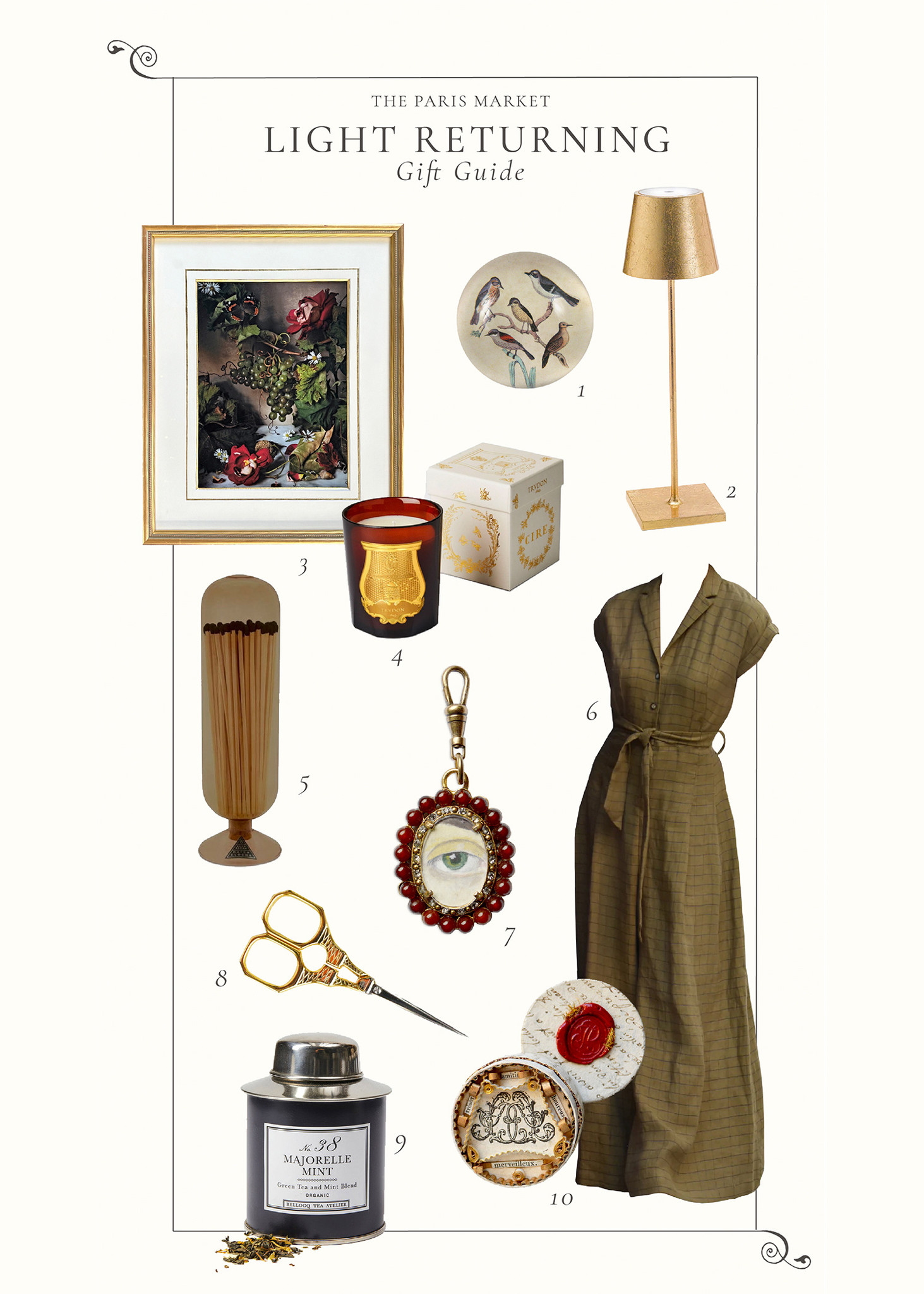 To celebrate the slants of light returning to our world, dancing between bare tree limbs soon to burst forth with new growth.
The siren song of flowers and fauna, the mark of another turn around the universe, the quiet reflections and whispers of hope.
⁠


⁠
1. Feather Friends — John Derian Paperweight
Since 1989, John and a small studio of artisans in New York City have been creating glass plates, trays, bowls, and other decorative home items with decoupage from his vast and ever-expanding collection of 18th and 19th century prints.
Featured in Vogue and having undergone quite a few collaborations, the full range of his work keeps us constantly inspired.
2. Gold Leaf Poldina Pro Table Lamp
Light is emotional and poetic, creating intimacy wherever it is shed. Created by the son of Venetian glassblowers and produced in Italy, these cordless lamps are lightweight, minimalist in design, and offer a romantic glow wherever they are carried. 
Featured in the New York Times as an NYC restaurant favorite, these lamps are dimmable, last up to 13 hours fully charged, and useful both indoors and outdoors.

3. Framed Book Proof, Dedication Page by Jamie Beck
A still-life reflecting the memory of a stroll through the Domaine Milan vineyard one October. In An American in Provence, this image is overlaid with the dedication: "For Eloise. Of all the gifts Provence has given me, the greatest of all has been you."
Stunning, one-of-a-kind fine art prints of the final proofs of Jamie Beck's NYT Bestselling book, An American in Provence, framed by hand in France complete with a signed, dated, and embossed certificate of authenticity on the back.
Head Notes Bergamot, Waxed wood, Honey Heart Notes Beeswax absolute, Sandalwood essential oil, Cinnamon essential oil Base Notes Tonka Beans, Patchouli essential oil, Musk, Vanilla
Hand-poured into Tuscan-made glass inspired by traditional champagne buckets, each candle is fitted with a cotton wick and filled by wax scented with an expert hand. The emblem is a nod to a bas relief found at the old Royal Wax Manufacture, and honors the bees that make each candle possible.
An amber color alluding to the sun. Inspired by vintage glass domes used to protect emerging seedlings, the cloche is made with handblown glass and fitted with a cork to stylishly hold an assortment of matchsticks.
A striker strip on the glass adds functionality, and the delicate vessels can be reused to display treasures and curiosities.

6. Audrey Khaki Jumpsuit — Luxe Provence
A modern classic, this jumpsuit created in a sophisticated khaki linen is flattering and fluid, cut with wide-leg pants that flow so beautifully, you'll be moved to dance the minute you slide it on.
Luxe Provence is a slow-fashion, limited-edition brand created exclusively in France with the finest artists, ateliers, and couturières of the region to conjure silhouettes inspired by the effortless romanticism of Provence. Featured in Vogue, Marie Claire, InStyle, and WhoWhatWear.
(Link coming soon; in store at Palmetto Bluff)

7. Carnelian Lover's Eye Pendant by Fallen Aristocrat
This special piece celebrates the truest of love: the Prince of Wales George IV and Maria Fitzherbert, a widowed commoner, who married in a secret ceremony and kept their devotion forever private.
Miniature portraits of the eyes of a loved one—commissioned by a local Savannah artist in a setting of flash plated antiqued gold over brass surrounded by carnelian beads.

8. Eiffel Tower Sewing Scissors
Keep your memories of Paris in your sewing kit with an Eiffel Towel scissors! This lovely two-tone scissors is made from nickel-plated and 24k gold-plated carbon steel. 

9. Majorelle Mint Tea by Bellocq
A Moroccan paradise of organic gunpowder green tea and vibrant mint with a stylish citrus twist. Beautifully fragrant while enjoyed hot, Majorelle Mint is also marvelously refreshing iced.
Bellocq's teas are nuanced, evocative, and surprising, and they are steeped in tradition that dates back millennia, often originating from families that have cultivated tea for hundreds of generations.
Exquisite, original works of art inspired by 18th century reliquaries crafted in monasteries and convents, reimagined in a series of miniature message boxes fashioned of antique paper by artist Corinne Seranno out of her studio in Provence.
Read the full blog on the reliquaries here!
All links may be found by clicking through images & text on individual items.
Leave a comment