Login
Log in if you have an account
Register
Having an account with us will allow you to check out faster in the future, store multiple addresses, view and track your orders in your account, and more.
Create an account
Gift Guide | Mother's Day
07 May 2023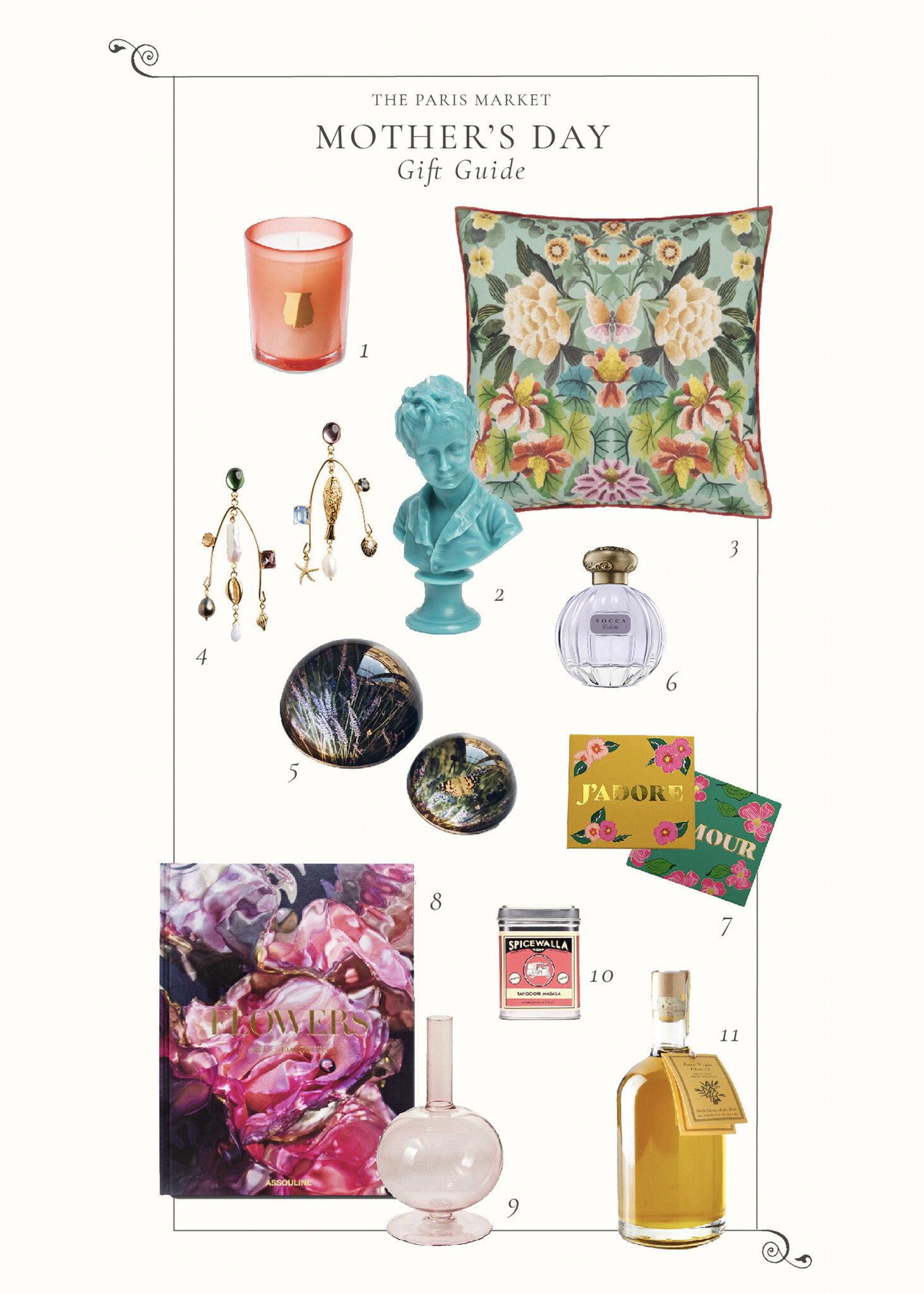 A colorful twist on the classics, this Mother's Day collection promises a fresh, curious point of view to honor the people we look to as mothers in our lives. From sun-soaked gardens to fine art captured in crystal, we offer treasures from France to India, to our very own hometown of Savannah, GA. 
⁠
White Flowers | Pink Berry | Mandarin | Blackcurrant | Raspberry | Patchouli
The Tuileries collection finds its inspiration in a rare document kept at the French National Archives by a French courtier who served as lady-in-waiting and first maid of honor to Marie Antoinette. The fragrance was conceived as an homage to the rose, the Queen's favorite flower throughout her life.
Fashioned after architect Alexandre-Théodore Brongniart's son, the original bust was carved in 1777 to express with strength and tenderness the passion for a subject that's never became old-fashioned.
Trudon introduces today the busts of characters or symbols of the French History, a very precious theme for the company which used to be the Manufacture Royale de Cire.

3. Ikebana Damask Aqua Cushion
Exquisite flowers, foliage and butterflies are arranged in an artful kaleidoscopic mirrored form to create a contemporary floral decorative pillow.
In serene coral tones, this luxurious decorative square pillow is digitally printed onto crisp cotton.
A playful scattering of charms dangles from the sea collector's ears, gathered across coastal waters in a glittering song of the sea. Pearls for wisdom, starfish for rebirth, glass stones for light, and golden shells linked on a slender gold chandelier.
Fallen Aristocrat is a collection of enchanting jewelry inspired by wanderlust, longing, and a fall from grace. By Paula Danyluk, exclusively for The Paris Market.
5. Lavender Crystal Paperweight Set
A collection of crystal paperweights fashioned to resemble the dewdrops sprinkled across the French countryside each morning.
Jamie Beck is an award-winning American photographer and NYT Bestselling author of An American in Provence. Beck is best known for co-creating the Cinemagraph, with her husband Kevin Burg, and for her work and life in Provence; including her Isolation Creation series.
A sensual blend of bergamot, violet, spicy pink peppercorn, and warm sandalwood, Colette is a tribute to the great poets of the 1940s.
Tocca—'touch' in Italian—is a line of perfume devoted to a lifestyle of timeless beauty and old-world European charm. Each scent is wrapped in the names of powerful, hypnotic women who rule the minds and hearts of men.
A smooth and creamy triple milled soap made with Goats milk and Shea Butter. 
L'AMOUR comes in Geranium - sweet and spicy with floral notes of rose, pepper and lemon.
J'ADORE comes in Grapefruit - An opulent, irresistible and sweetly enticing scent.
8. Flowers: Art & Bouquet Book
Be it a single delicate bud in a simple clear vase or an explosion of colorful blossoms, a brilliant bouquet accents an atmosphere and brightens the mood like nothing else.
Sixtine Dubly chronicles the evolution of floral design in this remarkable compendium, which also features stunning work by more than forty contemporary floral artists in London, Paris, and New York, from minimalist to elaborate. This treasury of gorgeous imagery blooms in resplendent color before the reader's eyes.
With a playful shape & clean sophistication, the glass Malaga Single Bubble Candleholder offers an uncommon elegance with its muted rose hue.
Lightweight & designed for a standard taper candle.
10. Spicewalla | Tandoori Masala
Spicy, tangy, and bright, this blend was engineered to impart maximum flavor.
Spicewalla is known for its fresh, chef-driven, and diverse spice blends. By buying and receiving smaller shipments of ingredients, the freshness of the product is ensured. Founded by a 5x James Beard-nominated chef with a pursuit of superior flavour and taste.
11. Taste of Tuscany | Extra Virgin Olive Oil
Made in Italy exclusively by the Corsini Family, the Duke of Florence. Packaged in a beautifully elegant 500ml bottle, this oil has the flavor of a traditional Tuscan oil, slightly peppery and vibrant bright green.
All links may be found by clicking through images & text on individual items.
Leave a comment