Login
Log in if you have an account
Register
Having an account with us will allow you to check out faster in the future, store multiple addresses, view and track your orders in your account, and more.
Create an account
Gift Guide | Goodbye to Summer
16 Aug 2023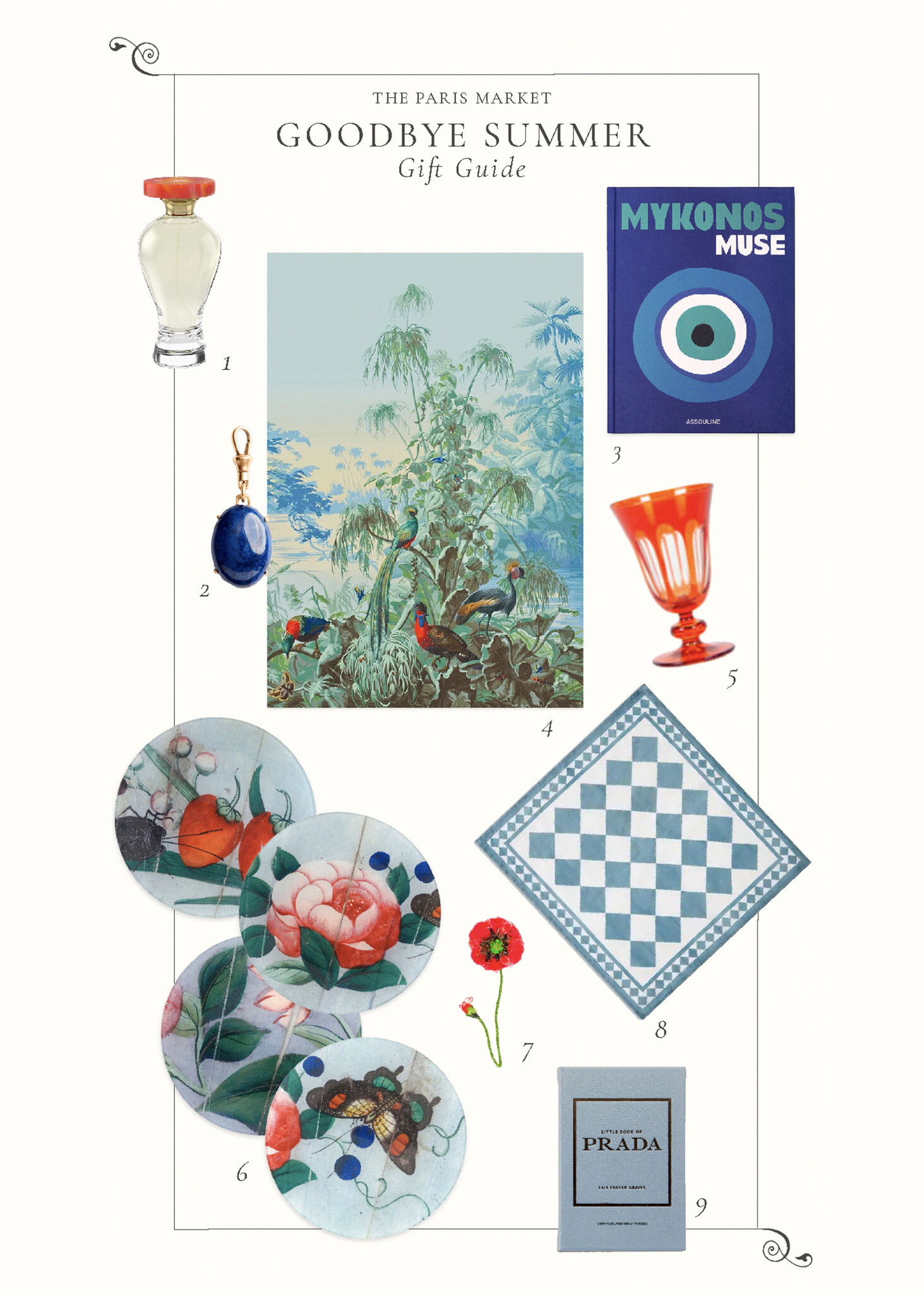 It's a season of transition from long, easy days in sunlight to the hum of school and projects. In light of this transition, we've turned our focus on fresh colors and fragrant cocktails, artworks to liven up your living space, and a rare summer sale. 
Think of us as you plan your final engagements, hosting parties in the garden before it falls asleep beneath a blanket of leaves once again. 
⁠
1. Princess de Malabar | Eau de Parfum by Lubin
On the Indian peninsula on the Malabar Coast, the Nair Princesses dreamed up a sophisticated, harmonious society where women held a central position.
Cotton flower, Bergamot, Peach, White Magnolia, Arabian Jasmine, Ylang-ylang, White Musk, Sandalwood.
This genuine lapis stone is the symbol of royalty and honor, spirit and vision, known to encourage wisdom and truth. The deep blue shade has long been a desired color, dating back to Cleopatra, who brushed crushed lapis dust on her eyelids.
Fallen Aristocrat is a collection of enchanting jewelry inspired by wanderlust, longing, and a fall from grace. By Paula Danyluk, exclusively for The Paris Market.
Luxury coffee table books with brightly-colored covers add a chic personalized touch to any room.
Featuring tropical to mediterranean culture and landscapes from Miami to Egypt, paired with photography and thoughtful essays, as well as maps and stories of local lore. 
4. Brèsil Bird's Ball by Paradisio Imaginarium
Le Brésil depicts an exotic landscape, a theme very much in vogue in the 19th century, exalting the tropical character of red ibises, parrots, peacocks, birds of Paradise, and pelicans whirling around the palm trees and luxuriant plants.
Paradisio Imaginarium is a creative studio dedicated to the creation of high-end illustrations, luxurious wallpapers and inspirational homewares designed and manufactured in France and other European countries.
Designed in homage to Venice and handcrafted by artisans in Turkey using a multi-step process.
No two are exactly alike and there are subtle nuances in the depth of color and cutwork on each glass. The Lolita color has a translucent finish.
6. Petite Decorative Trays by John Derian
Strawberries | Rose | Floral Sprig | Butterfly
Since 1989, John and a small studio of artisans in New York City have been creating glass plates, trays, bowls, and other decorative home items with decoupage from his vast and ever-expanding collection of 18th and 19th century prints. Featured in Vogue and having undergone quite a few collaborations, the full range of his work keeps us constantly inspired. 
Explore the rest of our John Derian collection, hand-selected by Paula in New York at this link here.
A love affair between art and textiles, these brooches are exquisitely hand-embroidered, mixing bright, eclectic fabrics and beadwork that draw on modern art with a nod to vintage appeal.
Each tiny creature gains life and character with only a handful of ingenious stitches, ready to nestle into your lapel and invite a rich variety of conversation.
8. Claridge's Blue Checkered Napkins
Inspired by Claridge's inimitable Art Deco design, this napkin is an ode to the hotel's iconic checkerboard lobby. Printed onto a pure 100% linen, this piece features alternating white and blue checkerboard diamonds and a border of the same.
Designed in charming Notting Hill, these Summerill & Bishop linens represent a dream shared by two best friends to breathe new life into table design. Read more at our blog
here
!
A pocket-sized and beautifully illustrated story of the legendary fashion house.
Understated elegance and luxury, technologically advanced fabrics and sublime originality of design are all hallmarks of the House of Prada.
All links may be found by clicking through images & text on individual items.
Leave a comment