Login
Log in if you have an account
Register
Having an account with us will allow you to check out faster in the future, store multiple addresses, view and track your orders in your account, and more.
Create an account
The Art of Portraiture
15 Oct 2023
The Paris Market is home to an intriguing array of portraits, crafted across centuries to capture the essence of humanity.
From the first, archaic scratching of blackened stone against a cave wall to a fine sweep of horsehair dipped in fresh oil paint, portraiture has existed as an artform. Unique amongst other styles, it is the only form that maintains personhood as the sole focus of a piece, capturing emotions and history in a single, intimate piece. 
Across the years, Paula has collected various portraits that spoke to her from dark corners of antique shops and stacks within a brocante—or else from modern artists watching the world with a discerning eye. Below, you'll find our favorites, hand-picked from the store walls.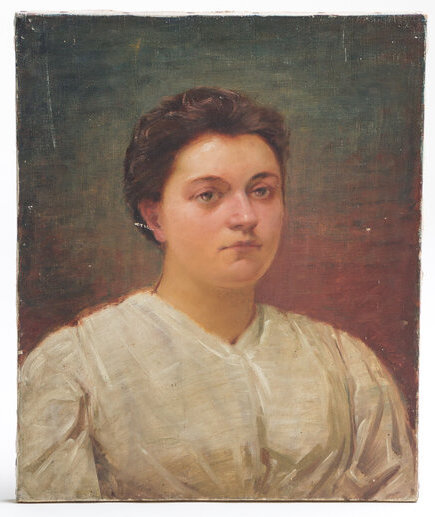 Soft, dream-like, painted with romantic brushstrokes and a palette the color of an autumn twilight touched by golden hour, this portrait depicts a simple image of a woman in a plain, white blouse.
Made in France | Artist Unknown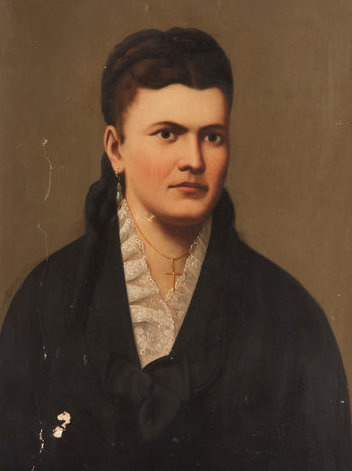 This mid-Victorian era portrait depicts a somber woman with rich brown hair drawn up in braids. She is wrapped in a coat of black with a slight ruffle around the collar, yet it is the delicate flurry of lace at her throat that demands the most attention, marking the rise of mass production and accessibility of luxuries such as bolts of lace.
Given the plain backdrop and obscure artist's name, one might be curious if this was a self-portrait, or one done by a dear friend or family member.
Painted in France | Dated 1877 | Artist Unknown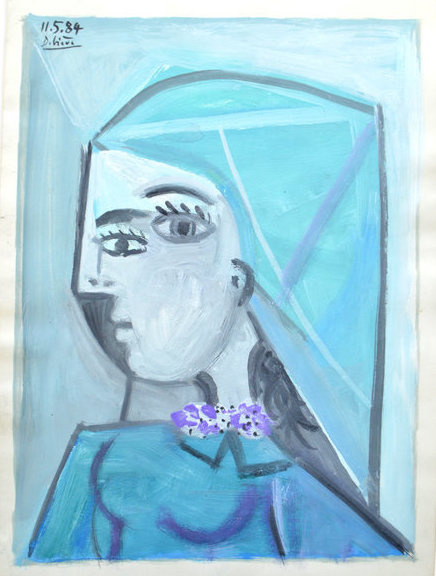 Curious and serene, this portrait of a woman is captured in dozens of shades of blue, broken only by the delicate purple and white scarf tied neatly about her throat. Raymond Debiève's style is at once sharp, critical, highly amused by the world, and frustrated—an ever-revolving lens crafted during the fragile reconstruction of a country flattened by war
Painted May 11, 1984 in a style attributed to Cubism by Raymond Debiève.
A young woman with vivid, aquamarine eyes is depicted wearing a reddish-orange headscarf standing over a pop of yellow in the back. The artist's technique for capturing the woman's pale skin in shades of pink highlighted by green and blue is akin to Renoir's bathers. 
Mary Sinner has painted for over half her lifetime, with an MFA in Fine Art and a BFA in Painting & Drawing from the University of Utah. Her brushstrokes are clear, favoring oil paint over most other mediums, and her preferred color palette of bright, evocative shades is clear within this portrait.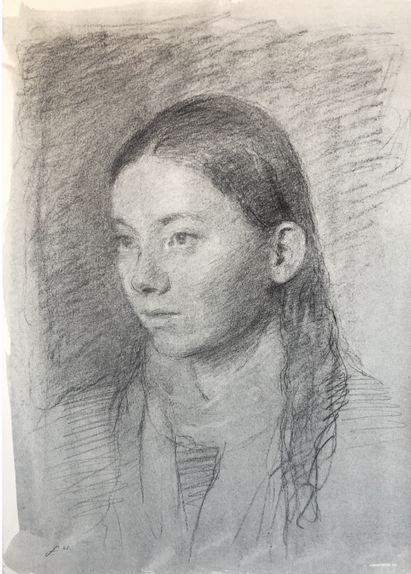 A woman stares at the snow falling outside her window, feeling the stillness of the moment before she lights a fire in her chilly Maine cabin. Painted from life by the artist, Seth Fite. Read more about him and find out other pieces at our blog here!
Original Charcoal on Paper | Seth Fite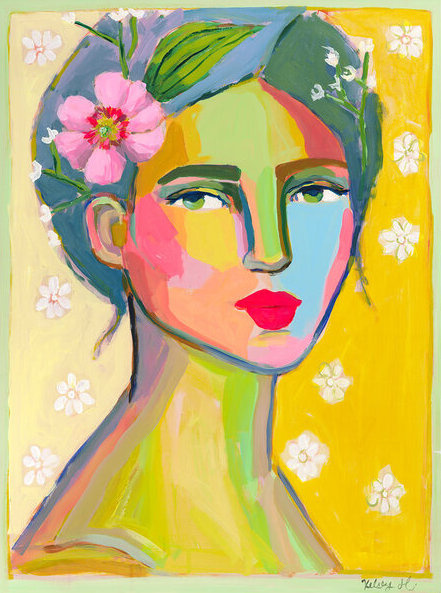 Romantic and soft, this print features a marigold-yellow background peppered with daisies, a woman tinted green, blue, and pink taking the central focus. She's not quite smiling, a pink flower tucked in her hair.
Kelsey Howard's greatest delight in life comes from her art, evidenced by her joyful use of color and connection with whatever the subject might be! With a bachelor's degree in studio art and biology, she makes a habit of studying her subjects keenly until their composition comes to life.
Created by Kelsey Howard.
Explore our other artwork here!
Leave a comment